BUILD YOUR STAFF AND REPUTATION
Recruitment HQ has built a strategic alliance with Zoho People Plus to bring our clients industry leading software and a full staff of recruiters in one cost effective product.  You and the people that apply to your store get the best of both worlds.  Top of the line software to manage jobs and candidates, and knowledgeable professionals to help make the transition from applying to hiring faster.
Many of our clients cut the time to hire and cost of sourcing candidates in half.  We are the only staffing solution with the technology and personnel resources to handle recruiting at scale and handle each applicant from your community personally.  You can trust us to treat every candidate with respect for their time and be a welcoming experience for your neighbors that apply to your company.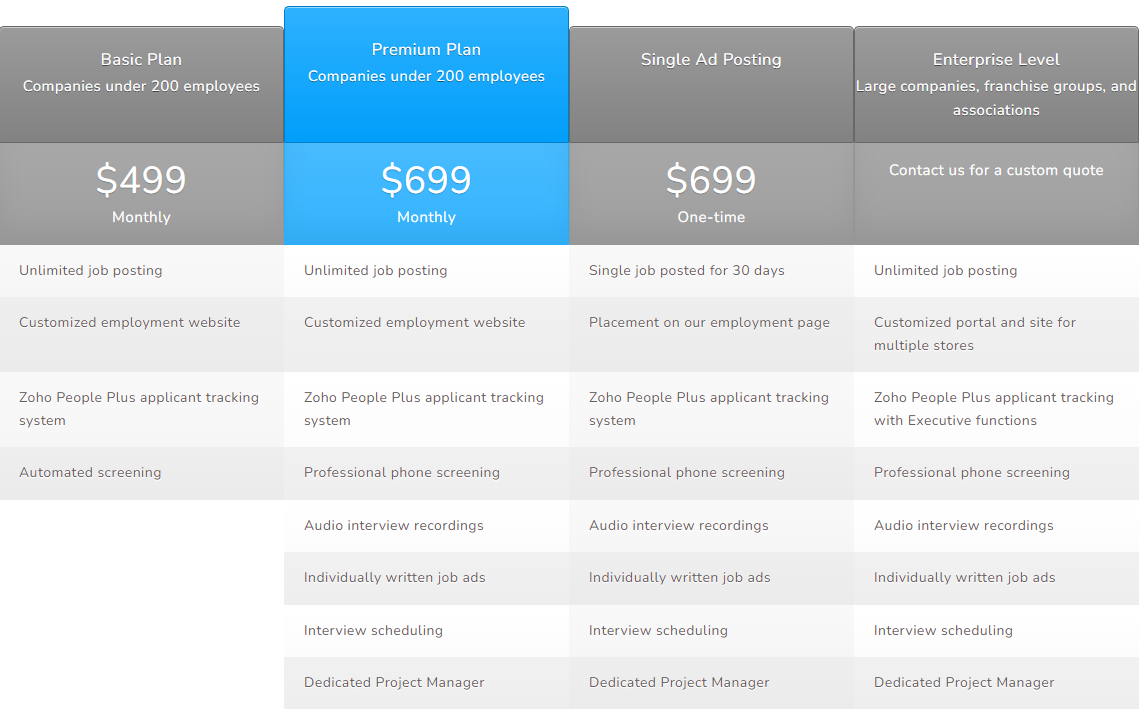 Premium Package gives you a full team to help you hire
The only time you have to invest is in face to face interviews with the most qualified candidates. Plus control your budget, because the price includes everything. You are buying unlimited ads, an advanced system to hire, and an HR staff for about what it costs to run one ad on the major job boards.
Have a few more questions before you purchase? Try our FAQ page.
Customized Explainer Employment Video
Did you know we can produce an engaging video for your employment site and ads? You use digital content as part of your sales messaging, because people are more likely to pay attention. Imagine watching TV, and a commercial comes on that is nothing but text. No sound, no images just a screen full of paragraphs and bullet points. How likely is it that you will pay attention?
Get out of the Text Age, and move into video and sound. Let job seekers see why you are the best place to work.
For only $199 we will produce a 1 minute video that shows job seekers why you are the place to work. That includes digital content, script, voice-over, and music. You can buy it as an add-on with our Hiring Plans, or just purchase it on it's own for your site.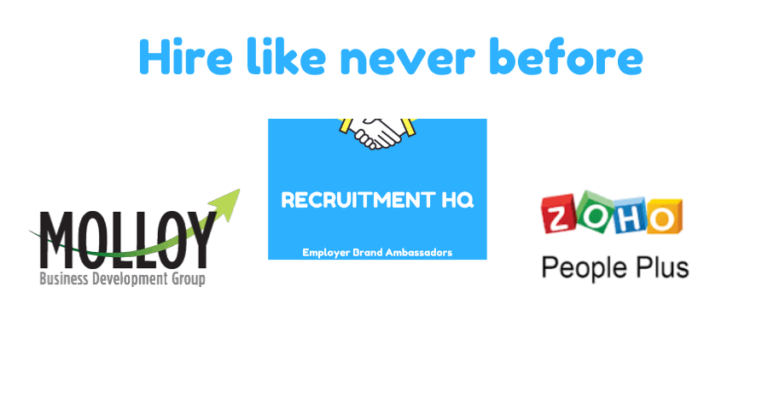 We have made strategic alliances with nationally recognized training companies to provide the most up to date sales content on the web and in person. Special pricing for our clients ensures you get high return for your investment.
Whether you need help with interviews onsite, training for new staff to be profitable faster, or full consultation to drive more sales to your departments we have the answers. Check out our Partners Page to see some of the options we have available.
Talented sales reps need prospects right away. The more skilled a sales representative, the less patient they are about having clients. We have a program to deliver quality leads fast that become incremental sales. It is our Liaison marketing program. You give us the contact info for the new hire, 500 uncontacted prior owners from your DMS or CRM, and we drive the traffic to your new sales representative or BDC representative. All this service for just $100 per new sales representative.
Here is what you receive:
Custom designed email marketing content. We center an offer around your new employee acting as a liaison to the orphan owner with a coupon.
Designed social media content. We craft digital banners in multiple sizes for your new employee and the dealership social media admin to share.
We email market to 500 prospects per registered employee. Prospects receive up to 3 emails until they open and read the messaging.
Responses are routed to the approved person in the store, either the new employee or BDC department.
Complete reports are generated with information on opens, clicks, bounces, and responses.
Coming soon brand new site to leverage the marketing

We will give you all the information you need to make an educated decision. See the pages we build, the tracking system you will have, and the experience your applicants will receive. Most clients are set up and posting jobs within 24 hours of signing up.
Disclaimer: All estimates are subject to change, values quoted are held for 30 days from receipt of estimate. $499 and $699 pricing is for a monthly subscription, and requires a pre-arranged term commitment. Dealer is responsible for making Recruitment HQ aware of any coupons or discounts to be applied prior to drafting of a sales order. Services are rendered upon receipt of payment. Recruitment HQ makes every effort to ensure the accuracy of the information published on its site and quotes. The documents and graphics published may contain typographical errors or technical inaccuracies. Recruitment HQ makes no representation of the information provided, and all documents and graphics are provided "as-is".