People Connecting People

---
Get the staff you need now
Recruitment HQ has partnered with AutomotoHR to create the fastest and most cost effective way to find a quantity of quality applicants for any position in your dealership.
The best suite of recruiting software, now comes with the best staff to recruit.
Cut the time and cost of finding and hiring the best local talent in half.  With industry leading online job posting, professional one on one screening, and immediate response to all of your applicants.
Here is what you get:
There is a lot that goes into creating the perfect hiring campaign, and we are experts at fulfilling your needs.
Industry leading SEO for all of our ads.  Everyone searching for a position like yours finds your ad.

We run thousands of ads a year, so you get ad placement that rivals the biggest companies.  Be the big dog hiring in your community.

Immediate response to every applicant.  Never have a resume fall through the cracks again.

Expert phone screening, based on your specific needs.  Only talk to true talent.  Your time is valuable, let us free you up to be selling.

Our staff handles all the scheduling, it is like gaining a personal assistant.
Follow up with all the applicants to ensure your standing in the community.  No more, "Am I hired?", calls.  We handle the disposition of every person.
Time to ask the right questions, to get the best people.
---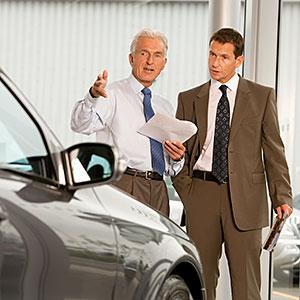 We start our relationship with a coaching conference call.  We learn your individual dealership to create screening for your personal needs.
The interviews we move forward to your executive team, are ensured to have the traits most important to your store.  We craft questions to get real information from your candidates.
Let our experts craft top notch questions for your interviews.
Recruitment HQ coaches will help design the perfect interview so you hire the right people.
Recruitment HQ does more than advertising and screening.
It takes more than getting a candidate to the door to make a successful hire.  We have formed strategic alliances with some of the best automotive sales training companies in the industry to help you get the most out of the great talent you get to interview.
Give the salespeople you hire the tools they need right out of the gate, and you will see them shine.  Whether that is online video training, or live in person we have a product to fit your needs.
---
Products and Pricing
---
 
---
Why Our Program Works
Hiring the best staff takes a large marketing effort, dedicated time on a daily basis, and fast reactions to applicants.  All of these can strain a dealership's ability to sell and service cars.  We get better results at lower cost because we are working on scale advertising, using advanced software to efficiently work with candidates, and have dedicated staff ready at a moments notice to interview candidates.
The best part is all of this work is completed by our staff.  You spend your time making more profit in your store, and let us bring you qualified people to add to the team.  Employment ads are written for you and posted the same day you want to start the search.  Candidates are contacted immediately by our staff, and your in-store interview schedule is even managed by our team.
How to Get Started
Moving forward is easy, just contact us and give our staff a few details about your company.  We will create a statement of work for you to authorize, and we do the rest.   Most times we are able to field applicants within just a couple days of getting your okay.
Call (844) HIRE-STAFF or email sales@RecruitmentHQ.com  We are eager for your business!
Terms & Conditions: All estimates are subject to change, values quoted are held for 30 days from receipt of estimate. $599 price is for a monthly subscription, and requires a pre-arranged term commitment.  Dealer is responsible for making Recruitment HQ aware of any coupons or discounts to be applied prior to drafting of a sales order. Services are rendered upon receipt of payment.  Recruitment HQ makes every effort to ensure the accuracy of the information published on its site and quotes. The documents and graphics published may contain typographical errors or technical inaccuracies. Recruitment HQ makes no representation of the information provided, and all documents and graphics are provided "as-is".